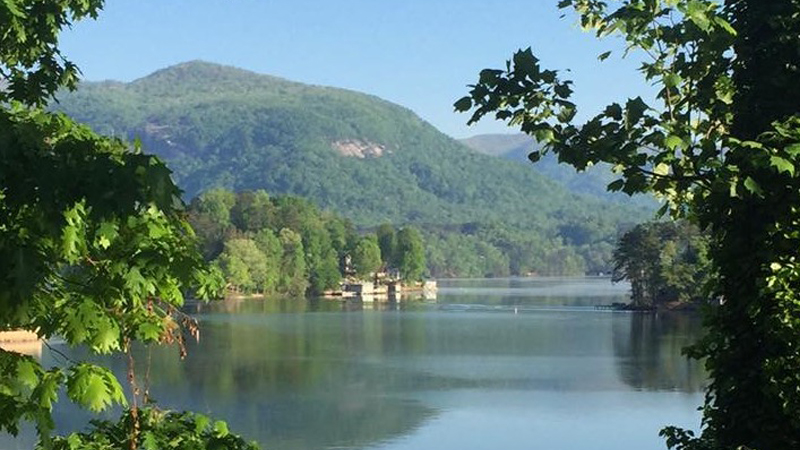 By Jean Gordon
On a quiet, tranquil morning as birds were singing, Ernesto and Haley Ferreira of Cary, NC, were having breakfast on the veranda at the Lodge on Lake Lure.
The couple, celebrating their second wedding anniversary in October, were spending a week at the Lodge on Lake Lure getting away from the hustle and bustle of life and work.
The young couple discovered the Lodge on Lake Lure online after a decision to spend their summer vacation in the mountains.
"We thought about the beach, but we were looking for a quieter place without the crowds," Haley said.
Paraguay native Ernesto, 30, and Boone native Haley, 26, met as students at Queens College in Charlotte, NC, fell in love and were married.
Ernesto left Paraguay after graduating from high school at age 18. He came to the United States to continue his aggressive study of English before going to Queens.
Ernesto has business ambitions to open a Book and Bar in the Cary area and Haley is a librarian in Cary.
"When we found the Lodge on Lake Lure online and read the great reviews, we knew we wanted to come here," Ernesto said.
"It is gorgeous, intimate," said Haley, looking out across the veranda to the lake.
"We needed a vacation place away from everywhere else and everyone else," Ernesto said.
When they discovered the Lodge on Lake Lure, they knew immediately they had found their happy place. They began planning and packing.
Haley spent part of her morning before breakfast doing yoga on their own private patio outside their room. Later the couple meditated in the tranquil setting.
"We love it here and we've already begun to plan a second vacation here and bring friends from Cary," Haley said.
Looking down toward the patio area overlooking Lake Lure, she added, "We're planning to have wine out there later today."
Owned by Tryon Resort, there are 17 luxurious guest rooms, each featuring gas log fireplaces, some rooms with verandas and patio space.
Room decor varies, each with its own style from traditional to modern, tapestry-style rugs to carpet, and light painted walls to wood-paneled. Repeat guests often request rooms by their unique names. Pet-friendly rooms and lodging with pull-out sofas for families are also available.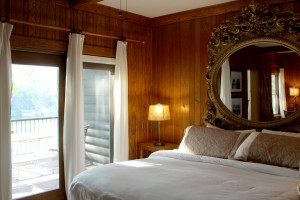 Inside the Lodge on Lake Lure, Stephanie Hinson was busy doing her morning chores as a housekeeper.
"I love it here. It is not a job.  It is so beautiful," said Stephanie.
She worked at the Lodge on Lake Lure several years ago, but left the area for Asheville. She returned to the Lodge when it was bought by the Tryon Resort and is happy to be back on her "vacation" job.
Yvonne Edgett, innkeeper/chef at the Lodge on Lake Lure agrees. "This is a job I enjoy coming to work for," she said.
The Treetops Restaurant at the Lodge on Lake Lure offers full service gourmet dining indoors or outdoors. Guests can enjoy meals indoors with spectacular views of the lake and mountains.
Chef Yvonne prepares delicious farm to table meals. Breakfast and dinner are served certain days and there is also Sunday brunch. The public is encouraged to enjoy the restaurant even if not staying overnight. (See details below).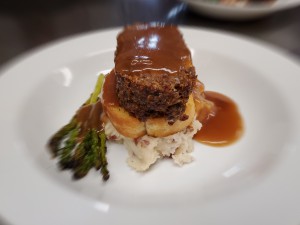 The Lodge on Lake Lure was built in 1930 as a retreat for the North Carolina Highway Patrol and families. There are large photos of the highway patrol accenting the walls of the lobby Lodge. It was open to the public in 1990.
There is a piano, books, magazines and plenty of board games for guests. Big comfortable chairs and the fireplace are inviting for guest wanting to relax.
The Lodge on Lake Lure also holds special memories for Pinehurst resident Dr. Donna Peters and her husband Rick Peters. They spent the night at the Lodge on Lake Lure prior to her job interview for superintendent of Rutherford County Schools several years ago.
"I prepared for the interview on the dock overlooking the lake," Donna said.
"We had many special evenings at the lodge enjoying romantic dinners," she said.
"Upon entering the lodge, you feel like you have escaped to another world — a cozy, inviting world that lends itself to lingering and relaxing. The lodge and rooms are so well appointed that you really don't want to leave," Donna said.
"This special little lodge is beckoning me back," she added.
That seems to be the sentiments of guests who discover the tranquility and beauty of the Lodge that is situated off Charlotte Drive in Lake Lure.
Lodge on Lake Lure guests can leave the tranquil setting and in only a few minutes arrive in Lake Lure to enjoy the beach, boat rides and restaurants. Neighboring town, Chimney Rock Village, offers plenty of shopping experiences, restaurants and Chimney Rock State Park.
The Lodge on Lake Lure is only 25 minutes from several other Tryon Resort amenities including the Tryon International Equestrian Center, the Cleghorn Golf & Sports Cub and the Resort's clay pigeon shooting course, Cleghorn Gun Club.
The Lodge on Lake Lure has been a member of the Select Registry Distinguished Inns of North America.
For reservations, restaurant hours and menus, or additional information, please visit www.LodgeonLakeLure.com or call 828-625-2789. For more information on Tryon Resort, please visit www.Tryon.com or call 828-863-1000.